"Once upon a time, there was a prince and princess. They fell in love and lived happily ever after." As children, we read so many stories about love and the perfect romance, hoping that it could become a reality one day. For some people, these storybook romances actually do come to life, and their relationships are magical, just like fairytales. From Reese Witherspoon to Blake Lively, prepare for your heart to melt at the stories of these celebrity romances.
1. Blake Lively And Ryan Reynolds Met On A Double Date, While Seeing Other People
Blake Lively and Ryan Reynolds should have made the story of their romance into a movie. The pair met on a double date, but they were seeing other people. During that dinner, sparks flew, and they realized they should be dating each other. We would hate to be the other two people on that date.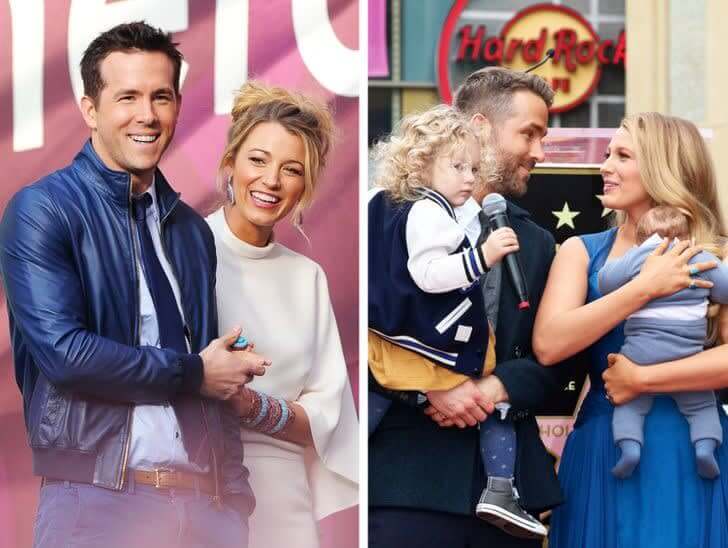 Brian Rasic/Getty Images | Shutterstock
The pair worked together on Green Lantern, and it didn't take long before Reynolds and Lively ended their relationships to start dating each other. This couple has been together for almost a decade now, and they seem more in love each day. They now have three beautiful children together, and they make such a gorgeous family.
2. Jessica Biel And Justin Timberlake Needed To Get The Timing Right
Timing is everything when it comes to relationships, and Jessica Biel and Justin Timberlake needed help getting the timing in their relationship right. In the mid-2000s, Biel and Timberlake had a four-year relationship, but cheating rumors started to arise, and the couple broke up. They needed some time apart to grow and mature.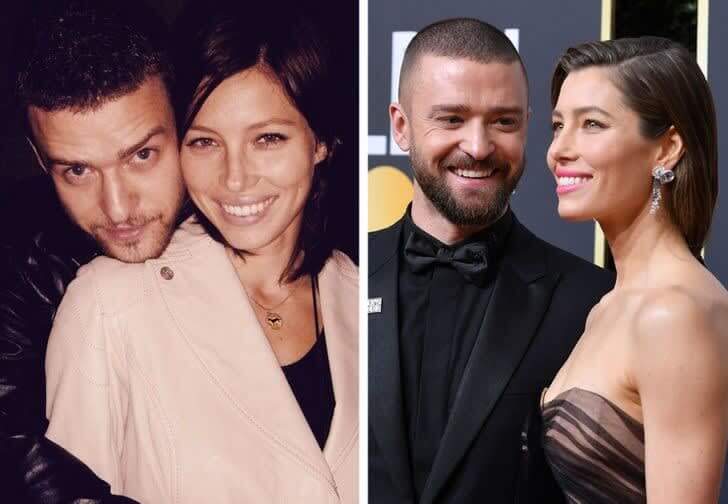 After a few months apart, Biel and Timberlake decided to get back together. Deep down, they both knew it was meant to be. It didn't take long for them to get engaged and married. While it might not be a conventional love story, it gives hope to many couples who might not have the timing right yet.
3. Lauren Akins And Thomas Rhett's Love Story Began In First Grade
The story of Thomas Rett and Lauren Akins's relationship sounds like something out of a Taylor Swift song. The went to the same school in first grade and attended the same church camp. It was during those warm summer nights that they started to develop feelings for each other and soon began dating for a short time when they were 15.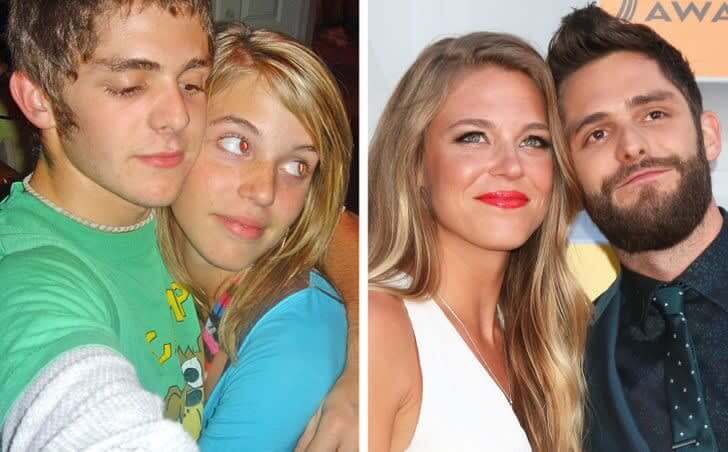 thomasrhettakins / Instagram | Shutterstock
After briefly dating, Rett and Akins went their separate ways. They dated different people and even got into serious relationships. Lauren was about to get married, and her father knew this man wasn't the one. He called Rhett and told him to come over and tell Lauren how he felt. You could say the rest is history. It is like an actual fairytale.
4. Ned Rocknroll Actually Saved Kate Winslet's Life
Ned Rocknroll was like a superhero when he saved Kate Winslet and her children from a house fire. In 2011, during Hurricane Irene, the house was struck by lightning, and they needed help to get out safely. Luckily there was a kind man who stepped in to save them.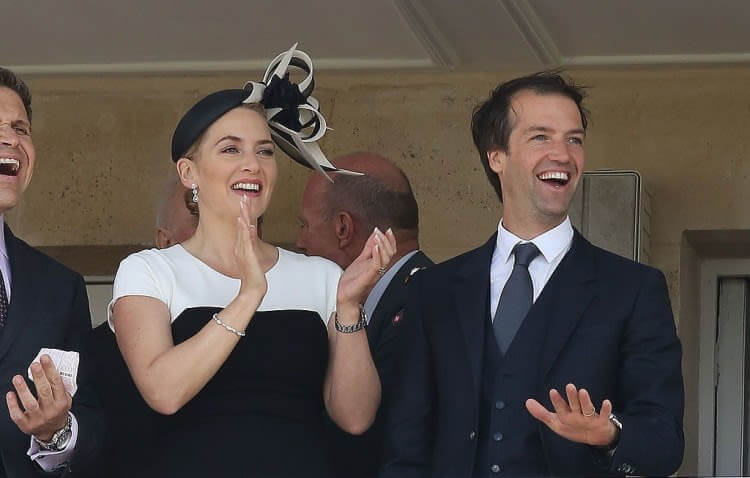 Winslet only had her children, a bra, and a passport, so she decided to marry Rocknroll. Not only did he save her and her family, but he always made her feel safe and comfortable. Like something out of a superhero rom-com, Winslet and Rocknroll have turned their love story into a lifetime of happiness.
5. Ginnifer Goodwin And Josh Dallas Starred In A Fairytale And Then It Became A Reality
For some people like Ginnifer Goodwin and Josh Dallas, fairytales do come to true. These two met on the set of Once Upon A Time, the show based on fairytale characters. She played Snow White, and he was Prince Charming, which meant their characters had an ongoing romance.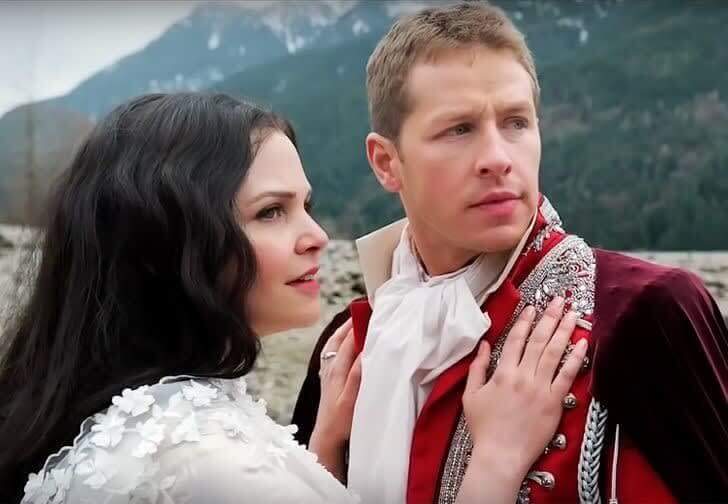 Once Upon a Time / ABC Studios
Meanwhile, off-screen, Goodwin and Dallas were falling for each other. On and off the show, they were living out every child's fairytale fantasy, and we have to admit how jealous we are. In 2014, these two got married, and we can only imagine how amazing their wedding was.
6. Neil Patrick Harris Met His Husband While Walking Down The Street
When Neil Patrick Harris first met David Burtka, Harris assumed he was straight. They briefly spoke in a coffee shop, and then ran into each other on the street shortly after. Harris's friend told him that Burtka was gay, but he had a boyfriend. The two decided to have lunch as friends, and something just felt right.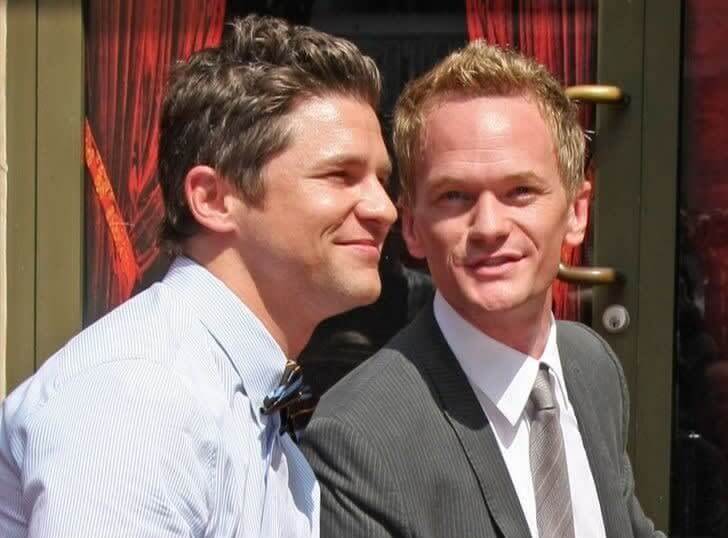 Burtka broke up with his boyfriend and started dating Harris. They grew close quickly, and Burtka proposed on Valentine's Day. In 2011, the couple welcomed fraternal twins, and in 2014 they finally got married.
7. Serena Williams And Alexis Ohanian First Spoke About Rats
Serena Williams and Alexis Ohanian were in the romantic city of Rome, but their first conversation was rather odd. Williams was in town for a tournament, and Ohanian was there for a conference. They happened to be at the same cafe when Wiliams's assistant tried to tell Ohanian to move tables because of a rat.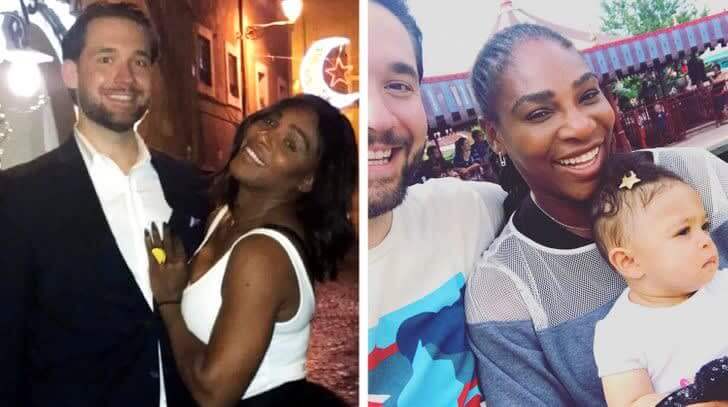 When Ohanian said he didn't mind because he saw rats in New York often, Williams was intrigued, and they began talking. Soon after this humorous first encounter, the pair started dating. A year later, Ohanian proposed at the cafe where they met. They now have one gorgeous child together.
8. Amy Schumer And Chris Fischer Met Through His Sister
Amy Schumer was a rising star when she met her husband. Her assistant Sarah had a single brother who was also an award-winning chef. Schumer's assistant said that Chris Fischer should come and cook at her vacation home. As Schumer and Fisher were planning a friend's birthday, things started heating up.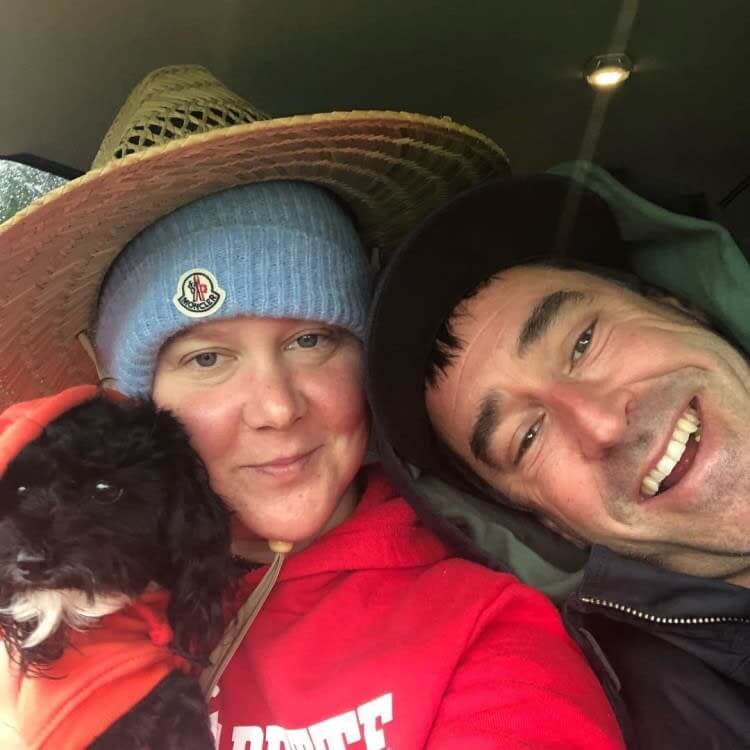 After speaking to her assistant to see if it would be okay, Schumer and Fischer began dating. After a few months of dating, the pair got engaged, and within a few days, Schumer planned a small secret wedding. They now have an adorable son.
9. Carrie Underwood And Mike Fisher Were Set Up By A Mutual Friend
When Carrie Underwood was still touring, Mike Fisher was a hockey player who lived in a different country. Their mutual friend thought they would make a perfect pair, so they met on a blind date. The date went well, but they didn't know how things would work with their busy schedules.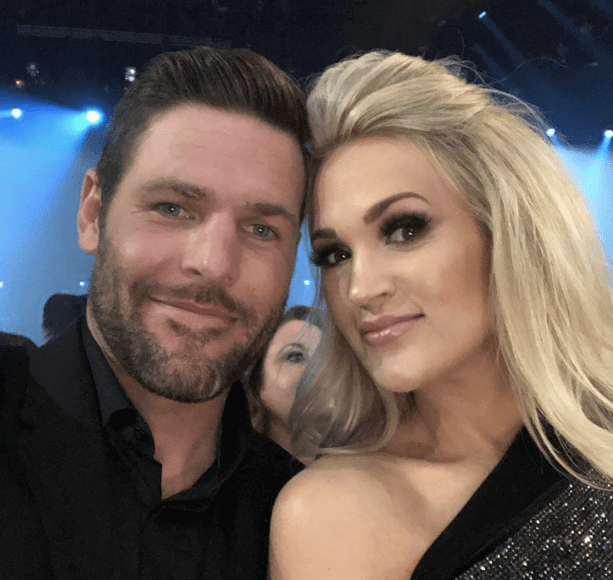 Despite the distance and their busy work lives, Underwood and Fisher made things work. They dated long-distance, and it turned out to be the most fantastic romance. They ended up getting married, and they now have two children.
10. Celine Dion And Rene Angelil Kept Their Romance A Secret
Although it is rare to find a couple in Hollywood that stands the test of time, Celine Dion and Rene Angelil are the exceptions. When Dion was 12, her sibling sent a cassette tape of her singing to Angelil. At the time he was 38, so he did not see her in a romantic way, but he was impressed by her talent.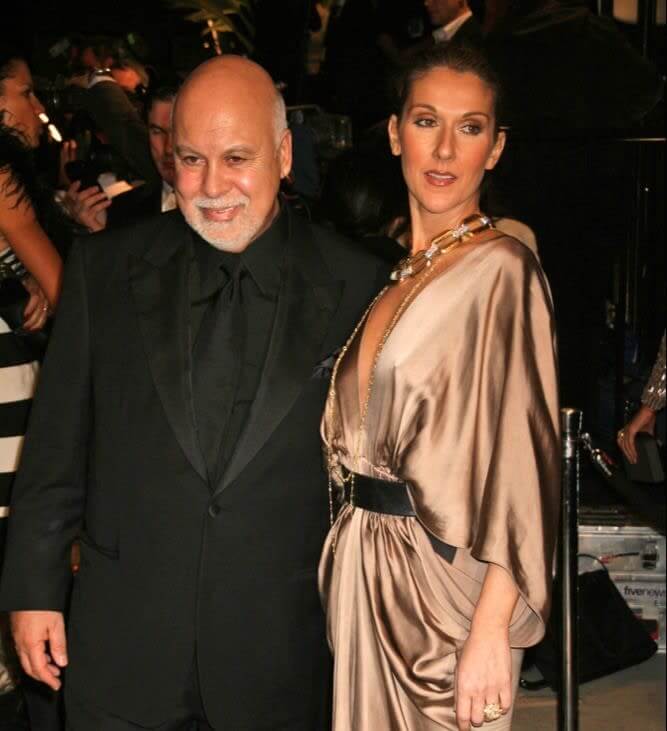 When Dion turned 18, she started dating Angelil, but they kept their relationship a secret because of the age gap. After five years, they publicly announced their relationship, and they showed all the critics that love knows no age. Sadly, Angelil passed away in 2016, but Dion's heart will go on.
11. Reese Witherspoon And Jim Toth Are An Unlikely Pair
Reese Witherspoon has been a big name in Hollywood for years, so she had always been used to dating other celebrities before she met Jim Toth. She had been involved with Jake Gyllenhaal and was married to Ryan Phillipe. Toth is a talent agent who was a massive fan of Witherspoon's work.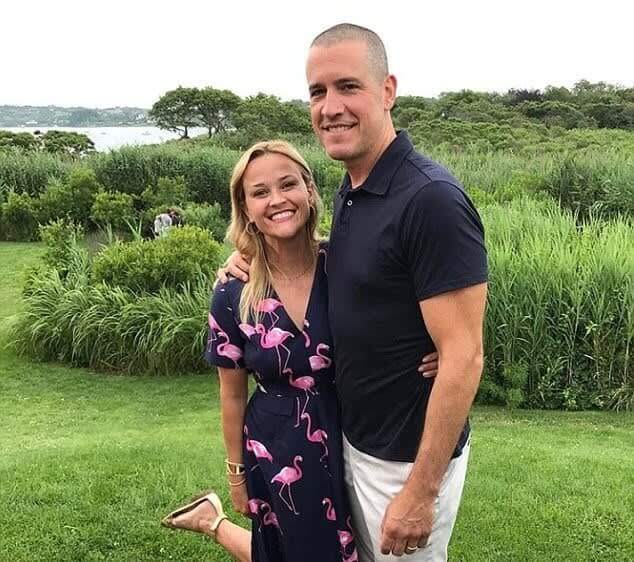 When the couple met, she forgot about all those big Hollywood names because it was an instant connection. Witherspoon felt like Toth understood her better than the people she had been with in the past. It didn't take long before they tied the knot in 2012 and had a son the same year.
12. Matt Damon Met Luciana Barroso While She Was Working At A Restaurant
While living in Miami, Matt Damon met Luciana Barroso who was an aspiring actress and waitress. Despite being a fan of his, Damon was the one to pursue Barroso. He saw her from across the room, and she enchanted him. He started to get bothered by fans, so Damon walked behind the bar.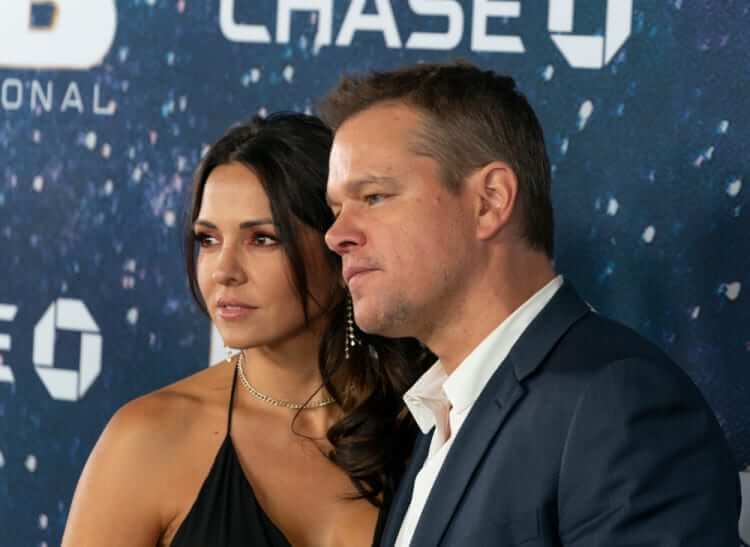 Barroso decided to put Damon to work since he was already behind the bar. He was not going to hang out for free. After this, the pair started hanging out and began dating. In 2005 Barroso and Damon got married and are still together 15 years later with three children.
13. Tom Brady And Gisele Bundchen Were Set Up By A Friend
When your friends encourage you to meet up with one of the most beautiful models in the world, you take their advice. A friend told Tom Brady that he and Gisele Bundchen should meet because they would make a great match. That friend was right, and Gisele was instantly attracted to his smile and became his biggest fan.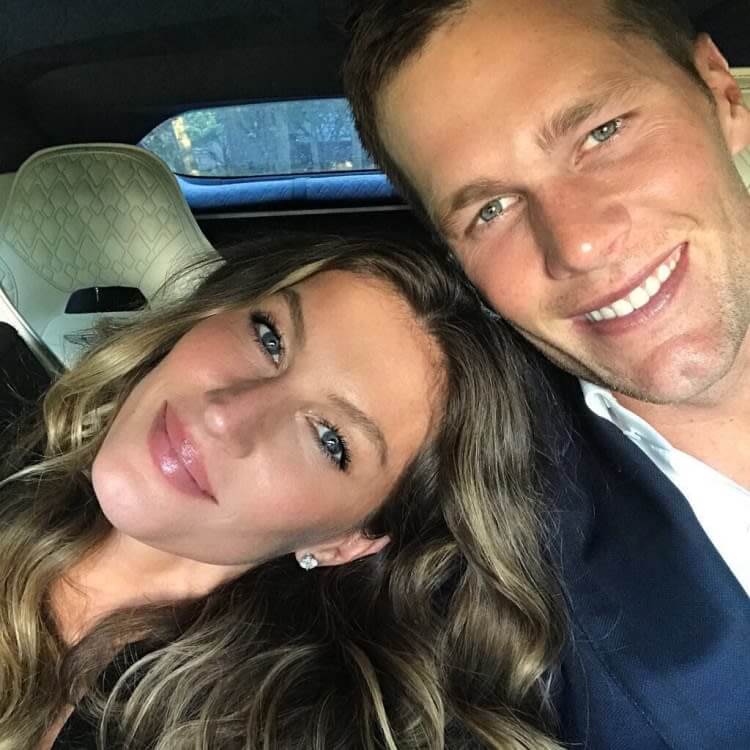 Gisele said it was an instant connection for her, and she knew that they would be together. In 2009, the couple married, and they have two children. She is always seen supporting Brady from the sidelines, donning his jersey with her children.
14. Alex Rodriguez Got Lost In A Parking Lot And Met The Love Of His Life
After an event one evening, Alex Rodriguez was trying to remember where he parked his car. While he was walking around, a woman came up and tapped him on the shoulder. He didn't recognize her because she was dressed in character, but it was Jennifer Lopez.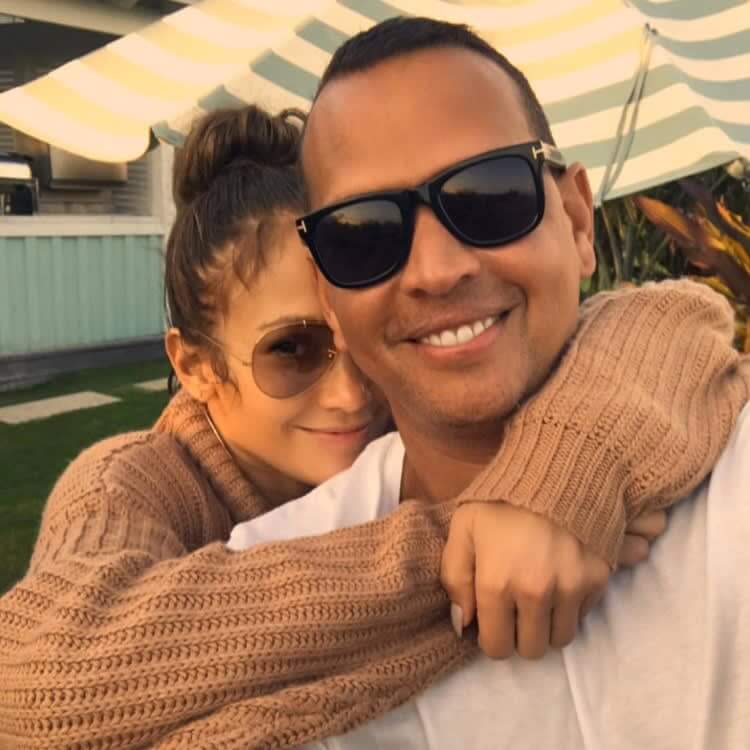 ARod took a second to realize who it was, and then the embarrassment set it. The pair had met a few times in the past, but they were both in relationships. After this encounter, the two began texting all the time, and they started dating. Rodriguez proposed, and they are currently planning the wedding sometime next year.
15. Victoria Beckham Would Hand Out At The Stadium To See David
Unlike most couples, David and Victoria Beckham are considered to be royalty in their country, so it is just like a Disney movie. This couple has entranced the British public for years, and how they met is the cherry on top of their fairytale story. Posh and David met at a charity soccer match where they exchanged numbers.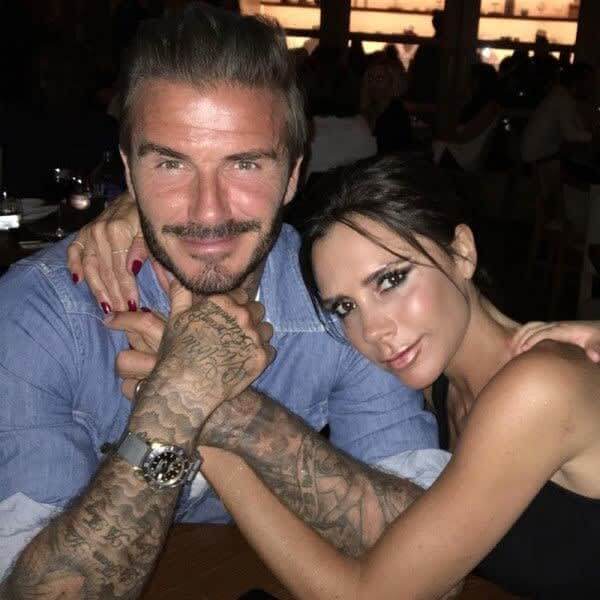 David said that Victoria would hang around at the soccer field like a stalker, but he didn't mind it because he had a crush on her after seeing one of the Spice Girls videos. He told people she was the one he would marry, and he made it happen. They tied the knot in 1999, and today they have four gorgeous children.
16. John Legend Hand Picked Chrissy Teigen For A Video So They Could Meet
Chrissy Teigan is never one to hide things on the internet, so when people asked how she met John Legend, she was very open. Teigan said that John saw a picture of her and hired her to play the love interest in his music video for "Stereo." Things got steamy on set and it didn't take long for them to start dating.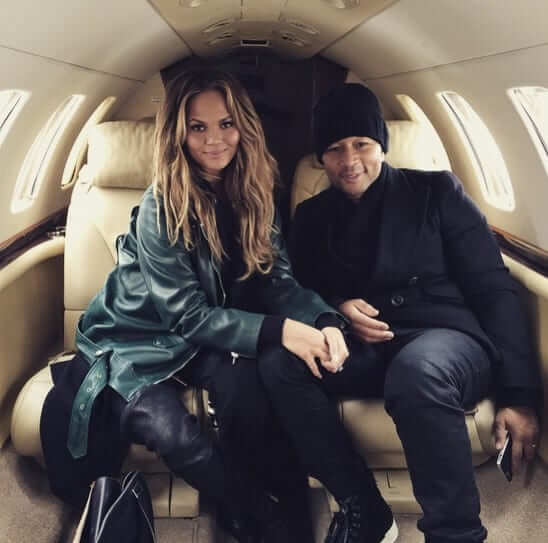 Like any other woman in a modern-day relationship, Teigan admits that she would look at gossip sites to see if he was dating anyone. In 2013 they tied the knot, and they have been the internet's favorite couple ever since. They share all their hilarious moments, and it is a joy to see them together.
17. Ashton Kutcher And Mila Kunis Met When She Was Only 15
Remember seeing these two kiss for the first time on That '70s Show​? Well, that was Mila Kunis's first kiss, and she was totally crushing on the former Calvin Klein model, Ashton Kutcher.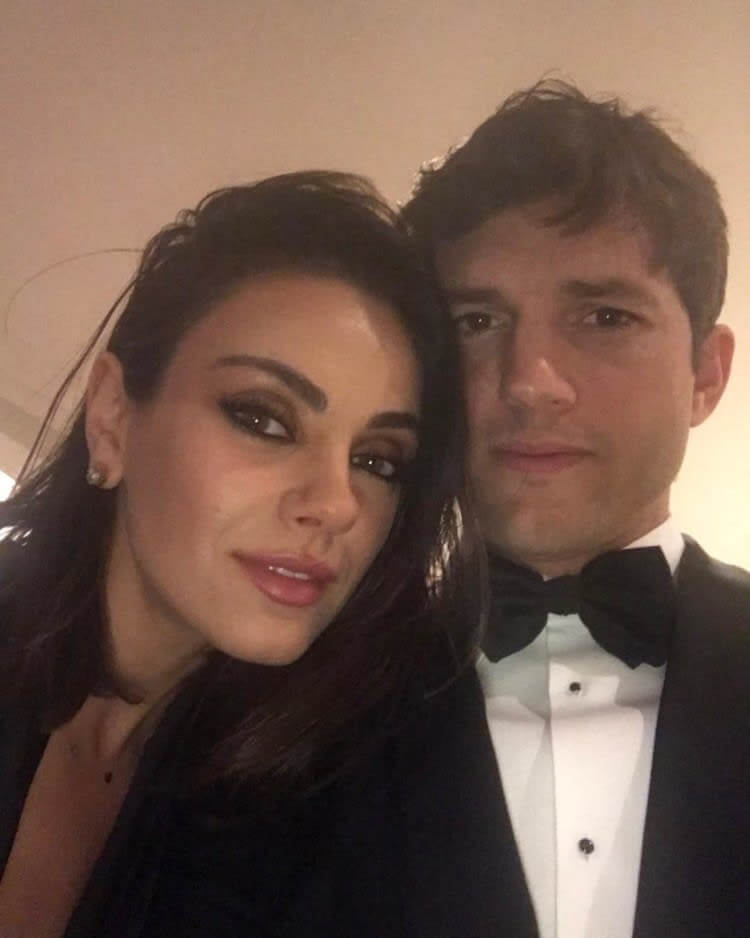 Although they didn't date while filming, Kutcher and Kunis reconnected years later, and the rest was history. In 2015 they got married, and Kunis says that he is the "world's greatest husband." They are genuinely head-over-heels for each other.
18. Danny Moder Admired Julia Roberts For Her Acting From A Far
Danny Moder was working as a cinematographer for the movie The Mexican when he met Julia Roberts. She was one of the biggest names in Hollywood, and Moder was already a fan. The pair realized they had a connection and decided to explore it.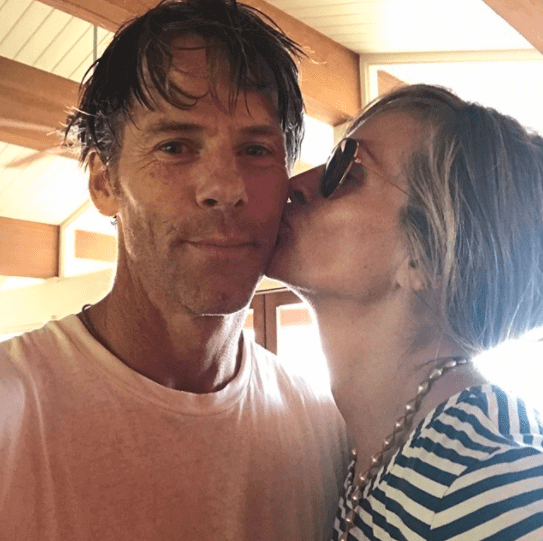 It didn't take long for them to realize they wanted to spend their lives together. Two years after they started dating, Roberts and Moder got married and had three children. They keep their relationship low profile, but the couple is going on 18 years of marriage.
19. John Travolta And Kelly Preston Met On A Movie Set And It Was Love At First Sight
"I got chills, they're multiplying, and I'm losing control." That's probably what John Travolta thought when he saw Kelly Preston for the first time. When they first met, Preston was married, but she quickly realized how unhappy she was after meeting Travolta.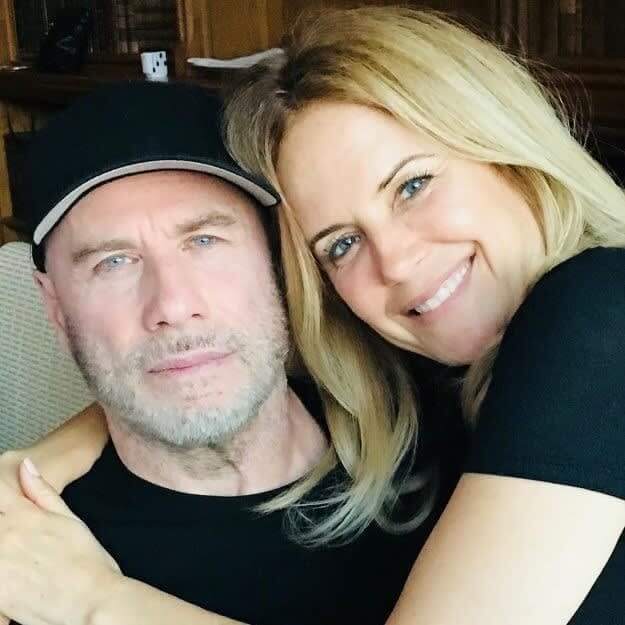 There was instant chemistry between them when they met at a screen test. One of their friends predicted they would end up together. Travolta and Preston married, and their romance is still going strong 29 years later.
20. Patrick Dempsey And Jillian Fink Met When He Went In For A Quick Haircut
Paging Dr. McDreamy to the hair salon! The former Grey's Anatomy star stole the heart of Jillian Fink when he ran into her salon for a haircut. Fink was shocked and thought he was so cute. Dempsey and Fink hit it off from the start and began dating quickly after. It was like a match made in salon heaven.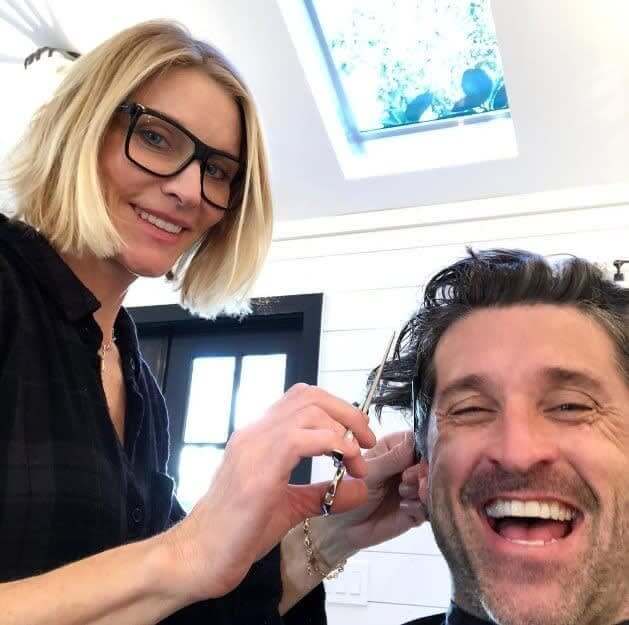 Their relationship has blossomed over the years, and they got married in 1999. It was pretty lucky that he happened to need a haircut that day. Who knew that he would walk in for a cut and come out with a future wife? The world works in mysterious ways.
21. Carey Mulligan And Marcus Mumford Were Childhood Sweethearts
Nicolas Sparks must have written this story because it is straight-up his alley. Carey Mulligan and Marcus Mumford participated in a pen pal program at their churches when they were teens. They had been matched up and started corresponding often.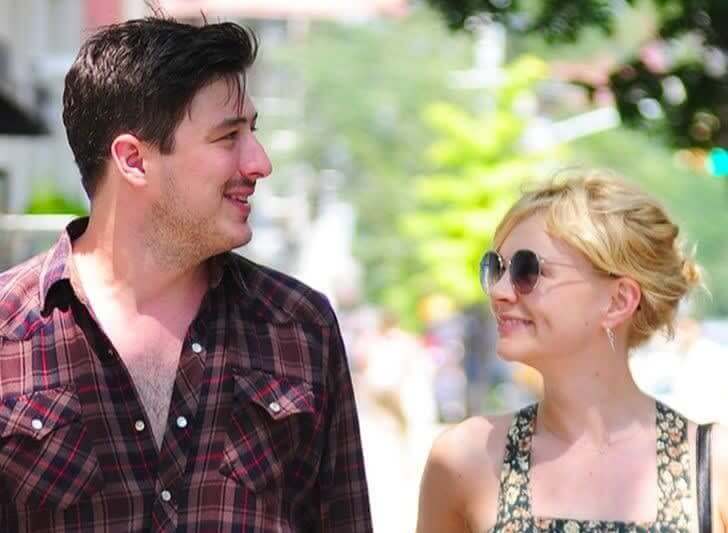 After a few years, Mulligan and Mumford fell out of contact but reconnected later in life when they learned of each other's success. Since childhood, there had always been a strong connection, which eventually led to marriage.
22. Kyra Sedgwick Was Nervous To Get Married To Kevin Bacon
Kyra Sedgwick and Kevin Bacon are one of the few Hollywood couples that have made their relationship work in the spotlight. Sedgwick had left home at 16, and she had had many people let her down in life, so when she started dating Bacon, it was difficult for her to move so quickly.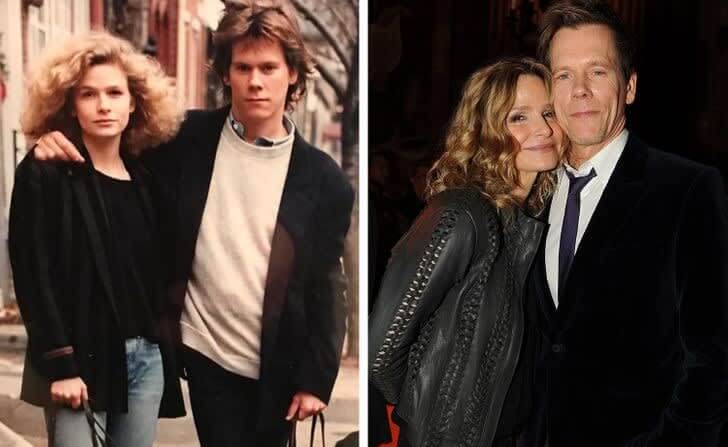 Their longtime romance started when they met on the set of Lemon Sky. Sedgwick was impressed with Bacon and had to praise his work. At the time they were teenagers, so nothing happened immediately. A few years later, Bacon and Sedgwick reunited, and they admitted that they were fans of each other. In 1988, they married and had two children.
23. Nick And Vanessa Lachey Were Brought Together By A Breakup Song
Sometimes people leave your life so there is room for others to enter. That must have been the case for Nick Lachey and Vanessa Minnillo. When Nick Lachey was in the boy-band 98 degrees, he appeared on TRL where Vanessa Minnillo was the host. He never imagined that years later they would be married.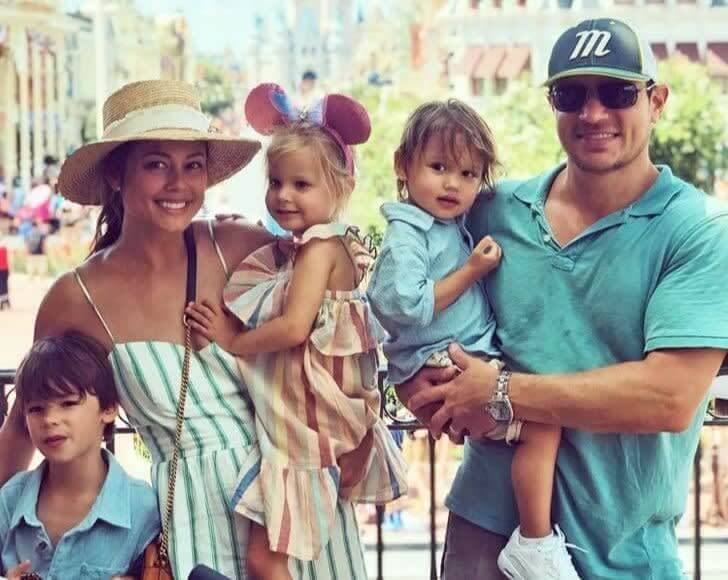 After his breakup with Jessica Simpson, he was looking to cast a female lead for his video "What's Left of Me." Lachey chose Mannillo as the lead and sparks flew between them on set. In 2011, they got married and had three children. The couple continues to share their love on the Netflix show Love is Blind.
24. Prince Harry And Meghan Markle Were Set Up By One Of Her Friends
Everyone needs a friend who can set them up with a prince on a blind date. In 2016, Harry and Meghan went on their first date because a mutual friend suggested they meet. From the first time they met, Harry knew that Meghan was the one he wanted to marry.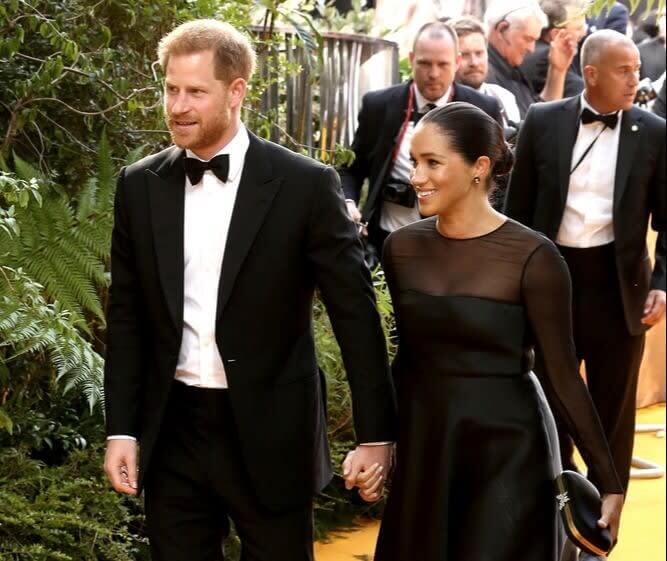 Although she was not the best pick according to the Queen, the couple fought against the royal system and got married in 2018. The pair decided to leave their royal titles behind after many arguments behind the scenes. They now live in California, and they are releasing a tell-all book.
25. Tamera Mowry Was Set Up With Her Husband By A Professor
After Tamera Mowry decided to take a break from acting, she attended Pepperdine University in California. While she was taking an economics class, her professor said he knew a guy who would be perfect for her. Adam Housley got permission and decided to ask Tamera out via email.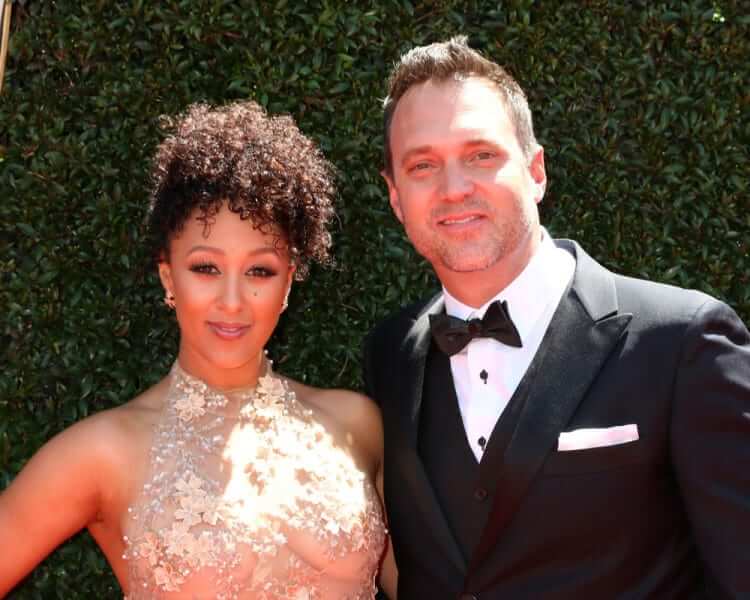 At the time, Tamera wasn't looking for a serious relationship because she wanted to focus on school. However, she couldn't resist Housley because of his way with words. These two eventually got married and started a family. They have a bond that she says is like nothing she could have ever imagined.
26. Mandy Moore Fangirled About Taylor Goldsmith On Instagram And A Love Story Began
Life has a funny way of working things out; when you least expect something to happen, the universe brings things into your life. That was the case for Mandy Moore and Taylor Goldsmith. After her divorce from Ryan Adams, she wasn't looking for a relationship, but she gained the attention of Dawes band member Taylor Goldsmith after posting an Instagram about the band.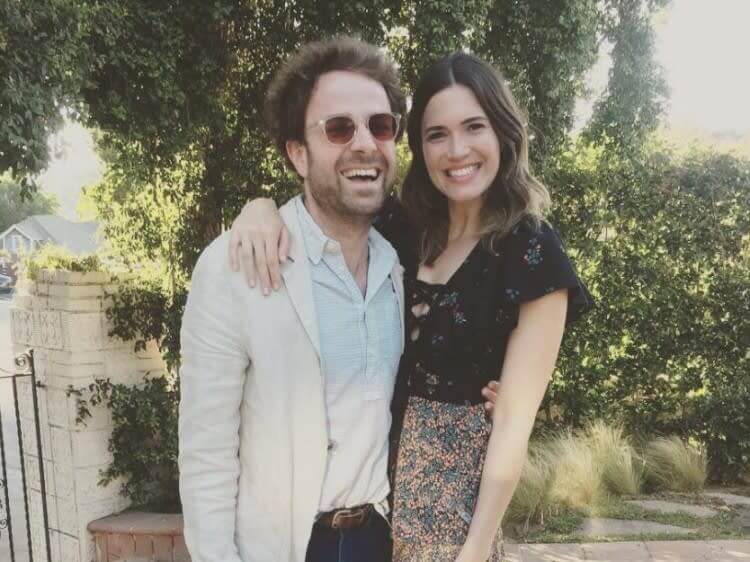 The two messaged back and forth for a while before they started dating. In 2018, they married, and Moore said that they were still big fans of each other. It is funny how some of the most unexpected things can change your life in the best way.
27. Kelly Clarkson's Manager Introduced Her To Brandon Blackstone
When someone sets you up on a date, it can be nerve-racking, and it doesn't always work out. Kelly Clarkson was preparing to perform at the Super Bowl in 2012 when her manager decided to introduce her to his son, Brandon Blackstone.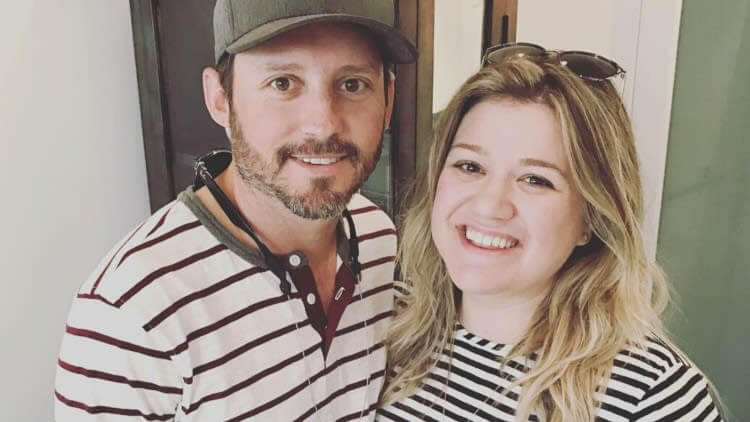 Things began to heat up quickly between Clarkson and Blackstone. They were friends at first because he was married but, by the time the Super Bowl came around, he was single again. A year later, the couple tied the knot, and they had two children. Although they shared a special bond, the couple filed for divorce this year.
28. Sharon Osbourne Was Working As Ozzy's Manager Before They Dated
Sometimes, you can find love in the most unexpected places. When Sharon and Ozzy first met in 1970, she worked for the company that managed Black Sabbath. After Ozzy left the band, Sharon took on the role of his manager and made sure his solo career was a success.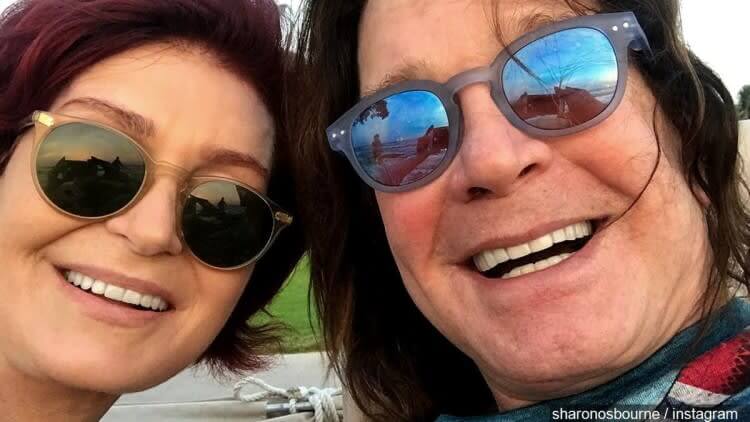 Shortly after she started managing him, Sharon and Ozzy began dating. The couple has been through substance abuse issues and marital problems, but they have only come out stronger. They are still going strong after 38 years of marriage.
29. Sarah Hyland Saw Wells Adams On The Bachelor And Tweeted Something That Would Change Her Life
Most of the time when you see a hot guy on a show like The Bachelor, the chances are low that you will meet him. Sarah Hyland happens to be one of the few women who got to meet her Bachelor crush. During one of the seasons, she tweeted her opinions of the contestant Wells Adams. She loved his bartending skills and literary references.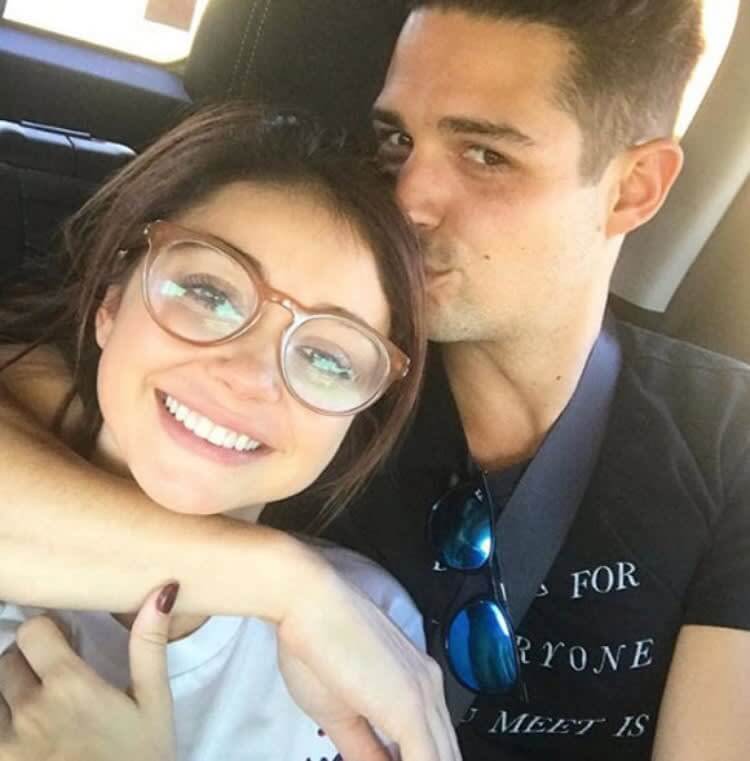 Wells saw her tweets and gave a flirty response that sparked their romance. The two started messaging on Twitter, and they began dating in 2017. Two years later, Wells decided to give Hyland his final rose and popped the question. They keep their romance exciting with tequila and lots of tacos.
30. A Notable Actor Introduced Catherine Zeta-Jones And Michael Douglas
In 1998, Catherine Zeta-Jones and Michael Douglas were both single, so their mutual friend Danny Devito introduced them. Zeta-Jones and Douglas said it was love at first sight. He knew she was the woman he was going to marry, and they had so much in common right down to their birthdays.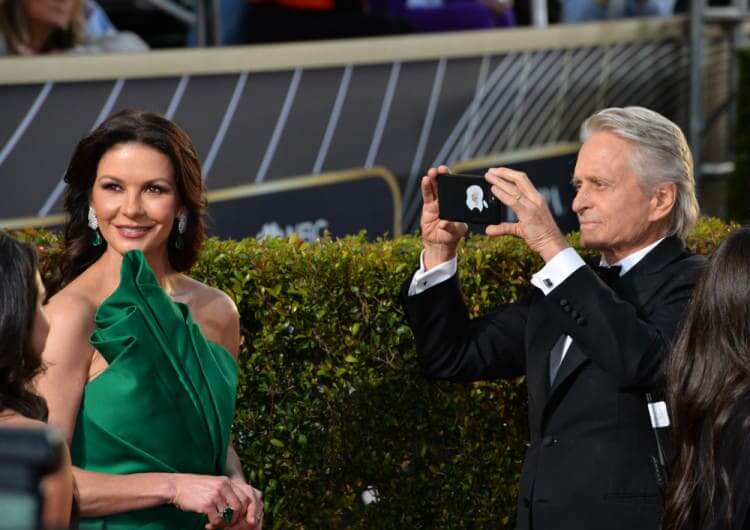 On the night they met, Douglas said, "I'm going to be the father of your children," and then he left. The two began dating shortly after, and they have been going strong ever since. They are incredibly supportive of each other's careers, and their love is rare.
31. Felicity Huffman Was Quite The Teacher's Pet To William H. Macy
Although this couple has been in the news recently for all the wrong reasons, their love didn't start on a sour note. Back in the '80s, Felicity Huffman enrolled in the Atlantic Theatre Company, where William H. Macy was a teacher. She was enamored by the cute professor who happened to be a celebrity.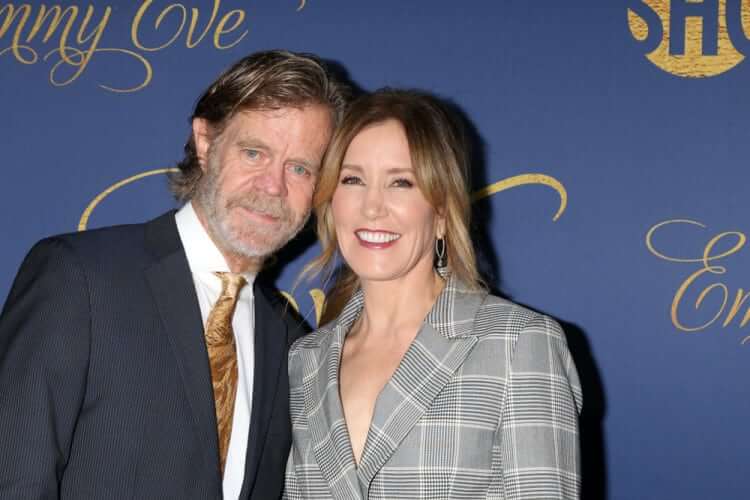 She must have been quite the student because Macy and Huffman began dating shortly after she was enrolled in his class. Although she was in love with him, Macy had to propose multiple times before Huffman said yes. The couple married in 1997, and they have been together ever since.
32. Steve Harvey Called Out Majorie Harvey From Stage Before He Had Even Met Her
Before Stever Harvey was a talk-show host, he was doing stand-up comedy. During one of his performances, Majorie Harvey walked in late, and he stopped his set. She thought he was going to call her out for interrupting, but she was shocked by what he said next.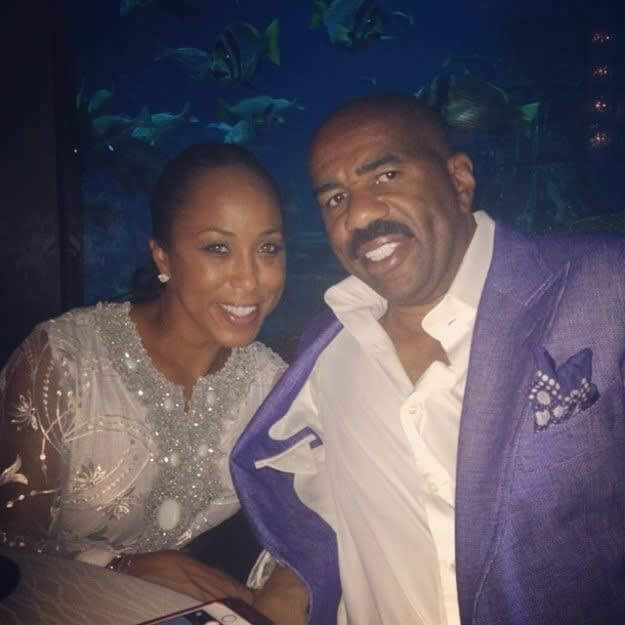 In front of the entire club, Steve Harvey said, "I don't know who this is, but I'm going to marry her." It took a few years, but he eventually got his wish, and the couple married in 2007. Harvey says that Majorie made him a better man, and she is his everything.
33. Ricky Martin Met His Husband When He Was Looking To Buy Art
For Ricky Martin and Jwan Yosef, it was art that brought this couple together. Martin is an avid art collector, and he was a fan of Yosef's work as an artist. He messaged Yosef to talk about his work, and their messages quickly turned romantic. Martin knew that Yosef was the man he would end up marrying.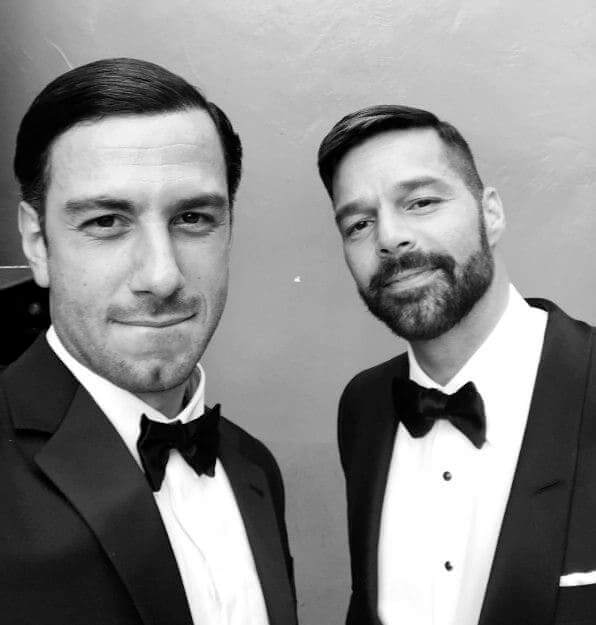 The two ended up meeting in-person in London, where they had their first date. Martin and Yosef felt an instant love connection, and they married in 2017. The couple recently welcomed their fourth child, and they couldn't be happier.
34. Kelsey Grammar Met Kayte Walsh On A Plane
This story might not be the typical fairytale, but things worked out for this pair. If you are an OG fan of Real Housewives of Beverly Hills, you will remember watching Kelsey Grammar's marriage to Camille fall apart on camera. The reason for their divorce was because Kelsey was cheating with flight attendant Kayte Walsh.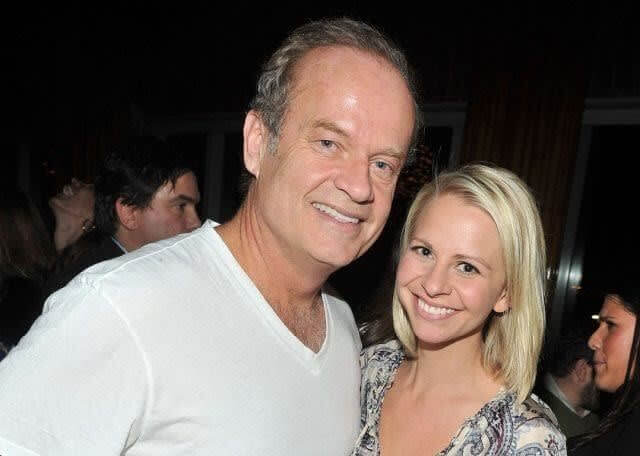 Stephen Lovekin/Getty Images for The Weinstein Company
After divorcing Camille, Kelsey proposed to Walsh a few months later, and they got married in 2011. This is Kelsey's fourth wife, and he has three children with Walsh. Some love stories have a few bumps in the road before they get to the happy end.